LABORATORY TEST INSTRUMENTS HUYGEN
Model 1314 Scott Internal Bond Tester
This instrument measures the energy required to rapidly delaminate a sheet-type specimen. The ? directional rupture is initiated by the impact of a pendulum moving at a velocity that exceeds 6000 times the velocity of tensile and/or ZDT testers. As opposed to a simple force and ultimate yield strength measurement, this energy absorption measurement responds to the semi-elastic nature of paper and paperboard. The high speed of the induced rupture makes the test correlate well with real world ?irection failures due to impulses, impacts and shocks in printing and converting operations on diverse paper grades as well as synthetic non-wovens. These failures tend to be millisecond phenomena. The instrument conforms to Tappi Test Method T569, which is an excellent reference for applicability, test details and repeatability data.
With its solid stainless steel pendulum, magnetic drop mechanism, Accupress?ple preparation station, precision bearings and electronics, the instrument?peatability and standard deviations are excellent. The calibration weight set included with the unit is useful for tracking accuracy and week-to-week performance. The calibration weight set is also a key element for ISO Certified laboratories because it acts as a reference standard when periodically returned to Huygen Corporation for calibration against the master instrument (see Calibration Services on this web site).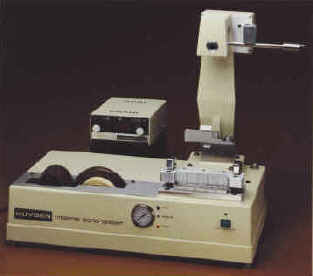 An optional high range package is available for testing high strength products such as core board stocks, lightweight coated printing grades and virgin pulp handsheets. This extends the range of the instrument to 900 x10-3 ft.lbs./sq.in. from the standard instrument?347x10-3 ft.lbs./sq.in. range. Both the standard and high range configurations can be supplied to read in Joules/meter2, i.e. 0-729 J/m2 for the standard range and up to 1950 J/m毲 the high range.
Stainless steel case to create a solid and
replica watches
stable, in its soft iron inner shell, can effectively protect the
replica watches uk
movement from the impact of extreme magnetic fields. After the surface of the
uk replica watches
case polished detailed processing, texture and meticulous beauty; and bezel after polishing, bright and clean. Case reflects the silver metallic
rolex replica
luster. Small table watch ear, and the case cast, smooth convergence, beautiful lines. The watch lugs show a natural arc, not only beautiful, but also make the watch fit more fit with the wrist.
Request the Model 1314 brochure for additional technical details. A photocopy of high speed photographs of ruptures that illustrate the normal semi-elastic character of paper and an example of a low strength, ?tle?duct is also available. Economic justification information for the Model 1314 instrument in terms of better dry strength additives control and refining control is available in letter/fax format.
Model 1314 Scott Internal Bond Tester
---