HUYGEN
Model 1600 Automated Somerville Screen with Doser [Page Down to Model 1500]
For faster and more repeatable laboratory screening of shives, nits, flakes, plastic particles, stickies and other contraries and contaminants in diverse paper pulps, the Model 1600 is an excellent choice. With its easily removable flat slotted screen and computer controlled dosing unit, the instrument can be programmed to process much larger pulp samples than the classical Somerville method. This makes it useful, not only for analyses, but also for cleaning pulp samples prior to other laboratory testing or refining. The automatic Doser holds up to 500 grams o.d. pulp at 10% consistency, or 250 grams o.d. pulp at 5% consistency, and feeds this into the screen tank at a preprogrammed rate to prevent the formation of fiber networks that would impede and slow the screening process. Because the sample feed, water additions, screen backflush and draining are computer controlled, it is not necessary for the operator to remain in attendance during the screening cycle. Even the initial water fill is rapid and automatic.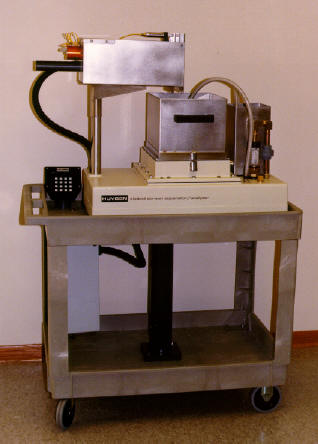 The ability to screen larger pulp samples improves the statistical accuracy of any contaminants determination. In addition, the Somerville technique, as defined in Tappi T275 and ISO xxxxx, ensures that essential parameters for obtaining repeatable results are controlled by design: constant water flow rate, defined low pressure head controlled by a weir, precise screenplate specifications (size, number, position and dimensions of slots), screen backflush/oscillation rate and screening time. This Test Method?w differential pressure across the screenplate, 0.14 psi, is particularly important because it prevents or drastically minimizes the extrusion of contaminants, such as stickies, into the cleaned or ?pts?eam. Therefore, a .008 or .006 inch slot width in the Somerville screen typically does a better screening/separation job than .004 inch production screens that can extrude and pass contaminant particles because of the high differential pressure across the screen. Overall, the Model 1600 provides a controlled superior screening system with easily changed screenplates. Huygen Corporation normally stocks the 756 slot stainless steel Somerville screenplates in the standard .006 inch size and .008 inch for contaminants/contraries, plus .010 and .012 inch sizes for pulp cleaning tasks. Literature and additional technical information is available upon request.
Model 1600 Somerville Screen
Model 1500 Somerville Screen Separator
For ease of operation the Huygen Model 1500 features a manual ball valve fast-fill system, quick-release screen tank latches, and two button electronic controller. The standard 20 minute screening cycle time can be extended by simply pushing the START button a second time. This is useful when manually adding several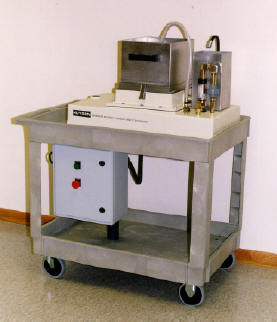 small samples to avoid the formation of fiber networks. The DC motor that oscillates the backflush diaphragm has an electronic speed controller to provide a consistent backflush rate. As with the Model 1600, the removable flat screen plate, screen tank, weir tank and quick- disconnect calibrated nozzle are all 316 stainless steel. Also, the entire instrument is mounted on a sturdy polypropylene cart. For automatically processing larger samples of pulp with computer programmable cycle and pulp addition (dosing) times, three selectable oscillation/backflush speeds, auto-fill and automatic drain functions, see the Model 1600 above.
Model 1500 Somerville Screen
Little
replica watches uk
Prince "series of unique dark
replica watches
blue dial decorated with
uk replica watches
radial decoration. Large luminous white propeller pointer and Arabic numerals against the background of dark
rolex replica
background to ensure fast reading time under all lighting conditions. This watch is equipped with The movement provides seven days of power reserve for the watch.